For this article, I invited my friend and colleague, E. Adam Porter, to share his thoughts on leadership after this week's remarkable Winter Olympic competition.
Even if you knew next to nothing about champion snowboarder, Shaun White, you knew there was something exciting, dramatic … and important … happening after he finished his first of three runs in the halfpipe competition. You could feel the unbridled joy and relief exploding out of White as he slid to a stop and launched his helmet – which he would need for two more runs – into the crowd.
Watching the reaction, from the athlete and the crowd, it was clear there was something more driving this than the incredible joy of competing well at the Olympic Games. After all, White has been there before, and he's won gold, more than once. This time, though… this time was different.
Four years ago, Shaun White showed up at the 2014 Winter Olympics, a massive international snowboarding superstar and the undisputed face of the sport. He was, easily, a heavy favorite to, once again, win gold, as he had in in 2006 and 2010. Then, disaster… White fell, fell again, and failed to impress, finishing a disappointing fourth.
Some asked if it was time for him to hang it up. Snowboarding is a sport for "younger" people, they said. White, in his late 20s, was considered an elder statesman. His time had come… and maybe it had gone. White considered it. He had been at the pinnacle of the sport for a decade. Multiple Olympic gold medals, countless tournament wins and huge endorsement deals. He had nothing else to prove. But White was not about to allow fourth place to be his swan song.
Shaun White got back on his board.
Heading into the 2018 Olympics, White was, once again, considered a favorite, though by a slimmer margin than in the past. In addition to the challenge from fellow American Ben Ferguson, two other competitors — Australia's Scotty James and Japan's Ayumu Hirano — appeared ready to dethrone the king.
Of course, to compete at the Olympics, White still had to make the team… and he nearly didn't. Prior to qualifying for Team USA, White suffered a major crash while training in New Zealand, suffering injuries that required 60-plus stitches. The face of the sport was bloody and battered. Once again, White picked himself up, pressed in and pressed on. He qualified in spectacular fashion and showed up in PyeongChang primed for another gold medal performance.
In the first of three runs, after most of his competitors turned in lackluster performances, White dropped in and put up a 94. Gold medal position. There went his helmet, flying into the crowd. Then, Hirano dropped in, turning in a run that topped White by a point. The crowd grew quiet, and White looked tense, and intense. He paced, waiting for another turn.
In the next round, White turned in a mediocre run. Hirano, the Japanese phenom, was still on top. One more round to go. One more opportunity in what, White had already hinted, would probably be his final Olympics. He would need to beat his best run of the day, by more than a point, and that run had been pretty spectacular.
So, there he was, at the top of the hill, literally staring down the pipe at his legacy. All the pressure, and the world was watching. Could the "old guy" hold back the new guard? Did Shaun White have one more historic Olympic moment in him? You already know the answer.
White dropped in… and, once again, made history.
So many times, we use sports metaphors to describe what it takes to succeed with people and in business. Often, those connections are tenuous. The environments in sports and in business have some parallels, but they are distinct. No maxim perfectly transfers from one venue to the other.
But this one comes pretty close.
That day in 2014, when Shaun White fell again and again, nearly everyone was surprised. Everyone, that is, not named Shaun White.
If any of us tried to put a number on how many times Shaun White had landed on his back instead of landing a trick, I don't think we would even come close. Every time, though, he kept getting back up. That, alone, didn't earn Shaun White another gold medal, but whether it was getting back up after his fall in 2014, or coming back off the injury in New Zealand, the foundation for White's success has been his willingness to get back up and run again, no matter how catastrophic, or how public, his failure.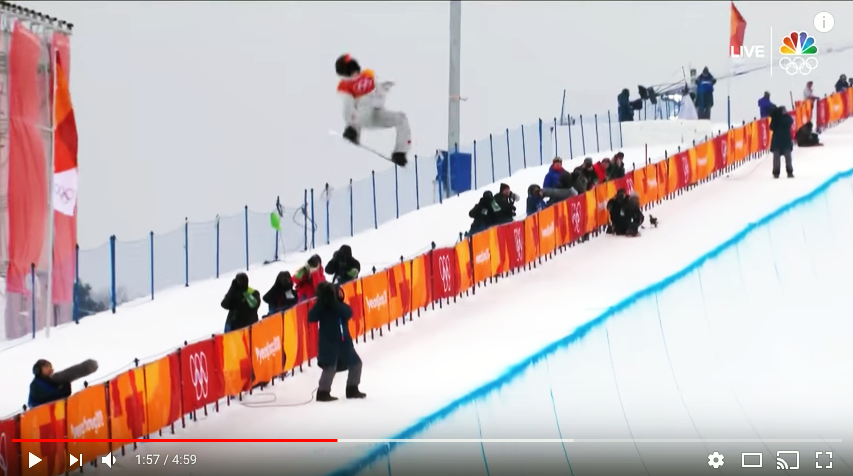 In that moment, staring down that halfpipe, White knew exactly what he had to do to win. If he failed, so what, he'd been there before. So, it wasn't the cost of failure that was on his mind when White looked down the pipe at what may well have been his final opportunity. He was focused on success.

Today, as we go about doing what we know we need to do to find success, as we make choices and take risks, we can take a lesson from Shaun:
Don't worry about what might happen if we fail. Keep your mind and your heart focused on what will happen when you succeed.
Image credit Wikimedia Commons
Video link credit NBC Sports