TRANSFORMATIONAL LEADERSHIP
When you become a transformational leader, you will begin to think, speak and act in a way that will inspire and motivate the people around you, no matter where you fit on the team. Group leaders will learn how to best develop their team, and team members will discover how and why they should lead from where they are. Once the entire team is focused on developing as leaders it will begin to influence and transform the culture and communication in your business, creating an environment of positive, value-driven communication that lifts everyone and benefits the entire organization.
In this program we discuss…
Communication is the key to success in any relationship, and miscommunication is the leading cause of confusion, stress and conflict. Learn how to connect effectively and how to implement an active listening culture on your team.
2
How to re-file the folders in your mental filing cabinet
Learn how to put the past in the past and get the most productivity out of your day.
Learn the five core actions you can do every day to set yourself up for success, and learn how to accomplish more before lunch than you used to get done all day.
4
How to Get
Through an Upset
Every team faces conflict from time to time. Learn how to effectively guide any interpersonal relationship through any conflict so that you can come out the other side stronger, not distracted by lingering upsets.
Leadership is lived out in actions. Many people want to be good leaders, but they don't do the things effective leaders do. In this part of the program we will talk about who you are when you do what you are doing now, and how that compares to who you want to be.
6
Two questions all leaders must answer
To become a transformational leader, you must answer two important questions. Learn what these questions are, and how to transform good intentions into "right" actions.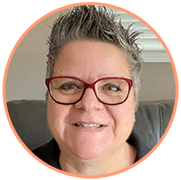 "When you are preparing to step away and put someone in charge of your business, you need to know their thinking is aligned with yours, that they're thinking like an owner, not an employee."
"I needed some outside help. That's why I called Trish. The process was amazing to watch. Trish is outstanding at establishing trust and building rapport. She came in, asking questions, allowing my manager to find her way. Then she started peeling back the onion …
It was so cool to watch that shift happening!
"I watched Trish give my manager the filters they needed to begin thinking like an owner. When that person started with Trish they were thinking like an employee. When she was finished they were thinking like a CEO.
"I saw my manager step up, take real responsibility, freeing me up to step away, secure in the knowledge my company would still run well. Trish exceeded my expectations in every way. Not only did she achieve what I needed, she did so quicker than I anticipated, faster than I thought possible."
– Valerie Sherman, CEO of United Building Maintenance, Inc
All programs are customizable
Contact Trish to discuss your interests and goals.