Relationships are Built in Person.

Our featured speaker at this special broadcast event is Dr. John C. Maxwell, identified as the #1 leader in business by the American Management Association® and the most influential leadership expert in the world by Business Insider and Inc. magazine in 2014.
World class speakers Dan Cathy, Simon Sinek and Liz Wiseman will join Dr. Maxwell. Learn from world-class leadership experts and return to your office ready to implement your new action plan and lead with renewed passion and commitment.

LIVE2LEAD: TAMPA BAY PASCO COUNTY
Pasco Hernando State College Porter Campus
2727 Mansfield Road
Wesley Chapel, Florida 33543
United States
Event Date: 2016-10-27
Registration Opens: 2016-10-27 at 7:30 am
Start Time: 8:30 am
End Time: 12:30 pm
Optional afternoon workshops facilitated by John Maxwell Team members are available from 2 PM – 4:30 PM to dive deeper into leadership principles and personal growth. Registrants will receive a free Omnia® Leadership Report (a $90 value) and consultation via phone. The report includes your strengths and possible challenges from your personal communications style, work pace and detail focus.
<div style="width:100%; text-align:left;" ><iframe src="//eventbrite.com/tickets-external?eid=21417307744&ref=etckt" frameborder="0" height="425" width="100%" vspace="0" hspace="0" marginheight="5" marginwidth="5" scrolling="auto" allowtransparency="true"></iframe><div style="font-family:Helvetica, Arial; font-size:10px; padding:5px 0 5px; margin:2px; width:100%; text-align:left;" ><a class="powered-by-eb" style="color: #dddddd; text-decoration: none;" target="_blank" href="http://www.eventbrite.com/r/etckt">Powered by Eventbrite</a></div></div>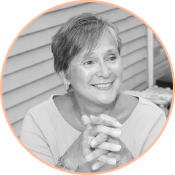 Michele Griesmer has known Trish, personally and professionally, for more than 20 years. "Trish has been my cheerleader, my confidant and my friend. I have never met anyone as perceptive and kind. She has a way of getting down to what you need to know about yourself."
"Trish has a gift for listening, both for what you are saying and what you're not saying. She's
so good, at first, it was a little frightening … she just understands on a different level."
Suddenly you're having this major 'a ha' moment …
"I cannot tell you how much Trish has helped me, how much I've benefited from her wisdom and insight. When I moved from employee to business owner, Trish was there, helping me when I got stuck, knowing exactly what to ask."
"It sounds so simple, but it's incredible. You're stuck, you call Trish. She gets to the root of what's holding you back. Suddenly you're having this major 'a ha' moment, you can just see it all so clearly."
"You know, everyone loves to tell you what to do. That's not Trish. She just asks you the right questions until you figure it out yourself. That's really it—Trish helps you hear yourself."
"In 20 years I've seen her do it over and over again, for me and for so many others. Someone's sitting there, unsure, and Trish starts asking questions. Suddenly, there's the light, and they're asking: 'how did you know that?' or 'how did you do that?' Sometimes you laugh, sometimes you cry, but you always understand."
– Michelle Griesmer
When we invest in personal growth, we recognize opportunities all around us.